The sweetest friend I am talking about in my previous post, who showered me with lotsa gifts (but most of all genuine friendship), who I only met online, who became my daughter's godmother and who is really deep down to the bone generous is having her first ever contest/giveaway in celebration of her and her hubs 6th wedding anniversary on July 28. She will be giving away a brand new Coach satchel bag worth $300!

I have been having second thought of joining, I am afraid to bring home this branded bag if I am that lucky, lol. But really, I want this contest/giveaway to be a success so this will be a monthly thing for all the bloggers out there to look forward to.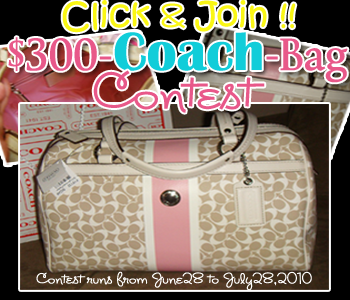 Main Sponsors:
So please help support my friend Umma by joining her contest/giveaway! She will be really happy if you do..Thanks in advance!
PS:
If you learn about the contest from here and decided to join please tell Umma you are being referred by me, NIKO. =) Thanks a lot!